We are passionately committed to providing an inclusive learning and working environment in which diversity is both celebrated and valued. We promise to treat each individual with respect and dignity and to ensure that every member of our community studies, learns and works in an environment free from discrimination, harassment or victimisation. We expect all whom we work with to share in this commitment.
We have a fundamental belief in the entitlement of every individual, both staff and students, to fulfil their potential and will help both to remove any barriers to that full achievement and promote equality of opportunity across the Trust. We take our responsibility to eliminate all forms of inequality seriously and our Equality and Diversity Policy provides the framework for our commitment.
Our commitment to recognising and celebrating diversity runs through our teaching and learning, our student support and pastoral systems and our enrichment programmes. Our Colleges and Academy welcome students with disabilities or learning difficulties and we will ensure that there is continuity and equal access to the opportunities and experiences on offer. Via our close working relationships with our local schools and through our SENDCo, we will endeavour to make sure that transition from a previous school to us will be as smooth as possible. We want to ensure that a disability of any kind does not prevent any student from succeeding and our study support function is directed at challenging everyone to achieve his/her potential, succeed and progress.
Equally, we are committed to recruiting and retaining the best possible staff and ensuring that a disability and/or health concern does not prevent an individual's skills and talent being recognised and put to best use.
The Trust is a Disability Confident employer. Please click HERE for more details of the scheme.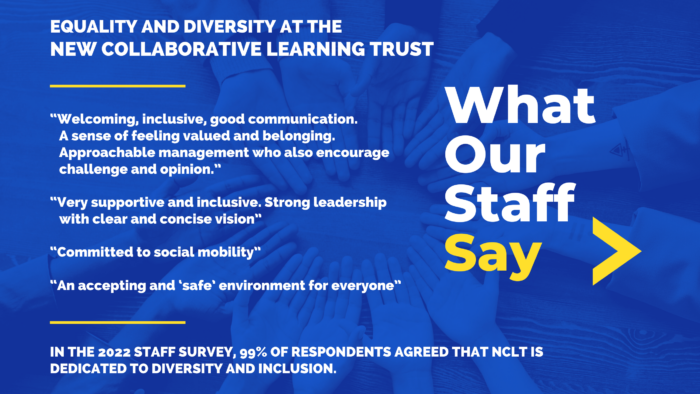 Statements and Policies
Can be viewed HERE (diverts to Trust website).
F.R.E.D.I.E. – Fairness, Respect, Equality, Diversity, Inclusion, Engagement
NCLT is committed to FREDIE for all!
Leaders in Diversity
We are delighted to have been awarded Leaders in Diversity status. The award is recognised as a sign that your company is committed to Equality and Diversity in the workplace.
Please click HERE to visit the National Centre for Diversity website.